Previously reviewed – Atlanta Reign, Toronto Defiant, Paris Eternal, Guanzhou Charge, Chengdu Hunters, Hangzhou Spark, Vancouver Titans.
We have finally arrived at the 8th and last expansion team's branding review, and what is this… do I hear the The Star Spangled Banner playing in the background? After the long journey through many colours, reveals, animals, otakus, and electric-terminology we've made it to the most "red white and blue" team out of the 11 that represent the USA.
Washington Justice
They're finally here, officially out there, to the surprise of no one.
The Good – With a team that basically had everything spoiled for them, Washington delivered on the roster reveals promptly and with style, boasting some of the most unique art styles we've seen yet. @thepeeetrick is the artist behind the stylized 80s / 90s cartoon – inspired roster rendition, so check his twitter for more stuff.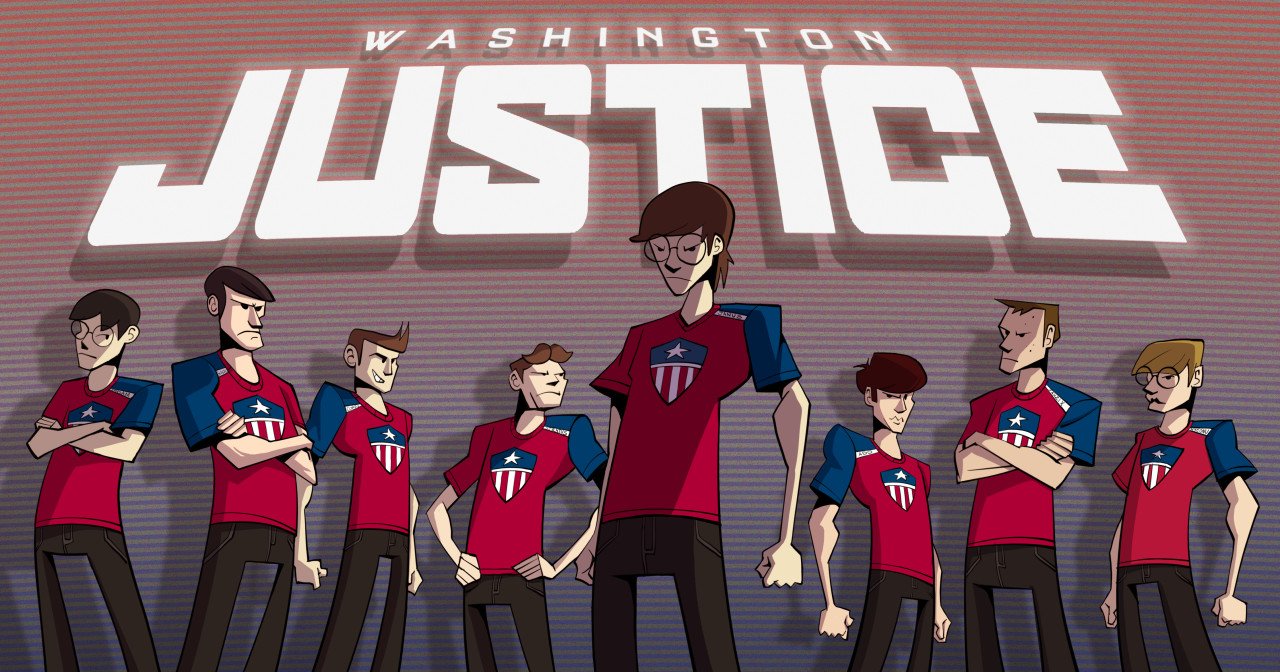 The Bad – Almost everything about how the brand was managed was poorly executed. The inconsistency of the news flow; Being the first to announce news with Janus and WizardHyeong but then the last to provide any news. Next, there were the offered positions that had gotten rescinded abruptly, putting people's livelihood at risk. And finally, even the chance of a last redeeming reveal got spoiled accidentally. Lets hope for the Washington team that their luck turns for the better once the season starts.
The Mediocre – Finally, the actual branding is the topic of our conversation. To the surprise of nobody the Justice are going to adorn the red white and blue and I like both how the skins look and how unapologetically patriotic the reveal video was. You wanted that "USA! USA! USA!" feel? Well, you've got it. Embrace it fully or go home, I say. On the less positive side, I dislike how the logo looks; It is a couple of small adjustments from being a good one. I think that the black border around the insignia is superfluous and the logo would look much better and more in line with other DC teams, as shown on redditt by her_bri_bri, with 3 stars.
So this is it! Thank you for joining me for the colourful journey across the expansion brands. This series shall return with the 2020 expansions!